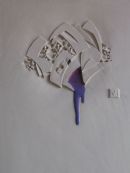 May 2019

Victoria -
16 May 2019 08:00:00
Other articles...
Each year at Kips Bay in NYC, celebrated interior designs are invited to transform a room in a show house and this year I'm thrilled that my bronze sculpture 'Ophelia' commissioned by Simon Orrell Designs has been showcased by Richard Rabel in his stunning design for the Gallery Entry and Lower grand Staircase. See the image on my instagram!
Also this week I have been invited to hold workshops at a school nearby working with the pupils to create small bas relief plaques! Am excited and naturally nervous about this! Its amazing how much planning is needed when undertaking such events. I'm really looking forward to seeing where their imagination takes them!
Am currently working on ideas for a commission for a panel and enjoying the process. Images to follow in the future. In the meantime here's one of the newest works fired and glazed!